ProLS In-House Training
This demonstration is prepared to give you detailed and in-depth highlights of the products, services and features that ProLS offers to help set up a completely dynamic and functional virtual university platform. With the exponentially increasing rate of digitalization around the world, the future of education is also digital. It means sooner than we can perceive, the learning platforms would all be online and virtual classrooms would be the only reality. And this is in fact not only an efficient approach towards saving time but a proven alternative to cultivate better outcomes and greater learning KPIs. ProLS offers a completely online and virtual learning platform for different levels of education such as virtual schools and academies, virtual universities, training and coaching, and in-house training platforms. However, this demonstration will focus on the characteristic features of ProLS – In-house Training setup.
ProLS offers the corporate sectors to devise their customized in-house training system for a wide range of employees. These training modules can be structured and categorized so that new on-boarding employees can be oriented with the organizational work culture and be equipped with the requisite knowledge and tactics – All the essential tips and training on the other side of your screen. Similarly, corporate companies can also update their learning management system with ProLS to update the learning material for the growing potential employees to help them gain further expertise in their areas of interest and benefit the company too. The administration can customize the ProLS-LMS in every in-house training aspect be it reporting capabilities or eLearning authoring tools and deployment methods. Unlike existing rigid LMS solutions, companies can extend the personalization options with ProLS to add as many features and tools as required to yield the benefits for the company. The companies can use the co-branding feature to use their company logo in live as well as recorded training modules. This brand integration is not only aesthetic but has reported to increase the credibility among the employees as well. This is a demonstration to give an insight of ProLS live and recorded in-house training cloud based software for corporate companies.
Full access to student dashboard, attendance data, course content and resources on cloud, e-library
As soon as the classes are commenced, the enrolled students are given the access to their online student dashboard where all the latest data is perpetually updated.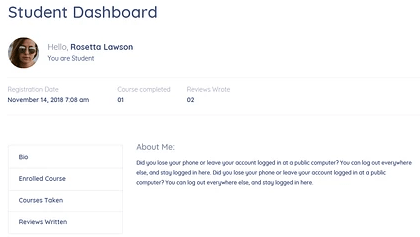 This data contains both the personal details of the student such as his/her attendance record and subject related content and resources. The lecture PDFs and slides can be made available for the students with the progression of the course so that they can not only catch up on what they miss in their online classroom but also get back to their instructor with just the right resource which is structured intuitively for a progressive understanding of the students as the time passes since the commencement of any particular course. This course builder option is by default available in ProLS - LMS for universities to conduct their virtual programs globally.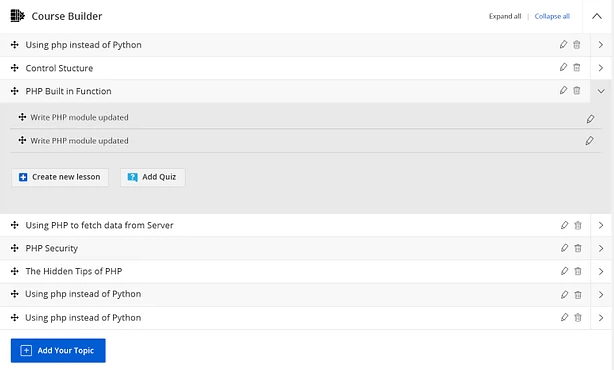 In a similar way, the regular attendance is also posted time to time for the students to stay aware of their class participation. The digital attendance record can be used to project the interest of the student in any course. All of this content is uploaded on a cloud based server so it gives the registered candidates the liberty to access their portal and available resources from anywhere around. The relevant resources can also be made available by the instructor subject to the conditions. In this way, even an e-library can be set up for the students to gain access to the additional material for a better understanding and in-depth analysis. By this moment, 8th milestone would have been achieved.
Different assessment types, their features, weightage, term exams FLP, and announcement button
After a significant progression into the course timeline, the instructor can initiate various assessments modules such as quizzes, assignments, and multiple-choice questions. The brevity of any such assessment can be scaled up or down depending upon the will of the instructor and weightage of the assessment towards the final grade of the registered course. These assessments can be both take home as well as online. For instance, assignments can be posted online with a deadline to meet and enrolled candidates are expected to submit their answer copies on their portal
in due time. However, quizzes or MCQs based assessments can be conducted online with a timer running on top of the screen.
Once the timer hits the end limit, the responses so far are recorded automatically and a scorecard (in case of multiple choice and true/false question type) is generated which displays the question-wise evaluation of the user. It enables the students to have an immediate feedback about which
areas of their learning module have room for improvement and which areas are being performed well. The result of all these assessments are compiled throughout the session and they can be assigned any weightage towards the final grade calculation of the module.
By the end of the term, a full-length exam is scheduled which may or may not contain all the possible assessment types including but not limited to multiple-choice questions, fill in the blanks, case studies, and analytical questions. A variety of useful assessment options such as grading method, time expiration rules, and a lot more with Tutor advanced quiz options can enhance your LMS like never before.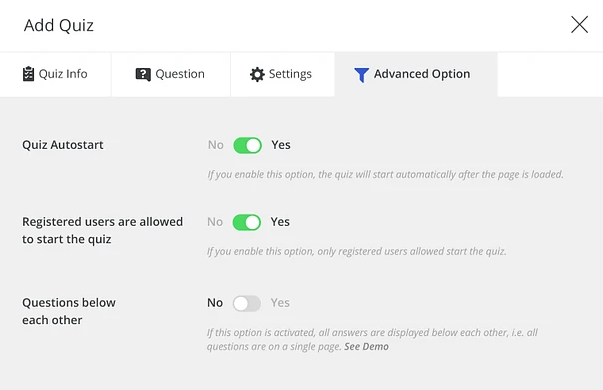 Once the assessments are conducted and compiled, the instructor has the liberty to set any given date for the announcement of the ultimate grade of any enrolled course. An announcement button is placed on every student's dashboard panel to notify them of any important activity like announcement of any assessment, content upgradation, attendance records update announcement or any other personalized announcement intended to be shared with a single of sub-group of students.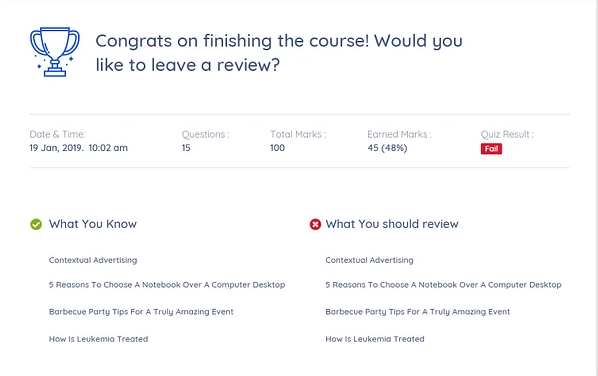 Scaling up this learning management system to a set of courses renders this system fit and sufficient to incorporate all that it takes to put a virtual university into function without having to compromise on the pros of a conventional university. Up till now, a detailed demonstration has been covered regarding a student's journey from their first point of interaction i.e. enrolment to their last activity for any given module i.e. gradebook announcement. This feature of ProLS is mapped to the 9th milestone which was structured at the top from the example of a mechanical engineering class.
Let us now have an insight into the ProLS whiteboard feature which integrates a number of other tools to give all the features in one place and escalate the learning gradient of the attendees to their full potential.
Administration panel
This section is mapped to the 10th milestone originally devised to elaborate a real class example. Apart from the dedicated features made available in students' and instructors' dashboard, there is an additional administration panel which has access to both the aforementioned dashboards to authorize, iterate and customize the range of accessibility provisioned in either of these dashboards. Powerful analytics tool lets the admin panel monitor all the activities such as number of courses offered, total number of students enrolled, current progress of the lectures, reviews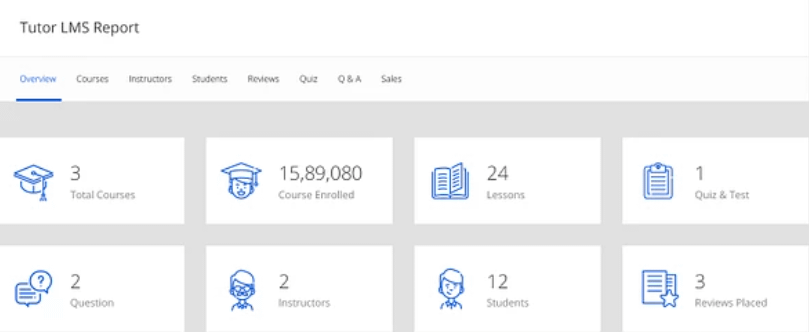 report, course timelines and users' queries. The administration panel can supervise the reviews submitted in the closing week of any ongoing module. You can approve or disapprove any course-review or instructor's review and let it be displayed live. It gives the new students an idea about a certain course before the enrolment to know better about what to expect in the event of registering for the very course. Additionally, it enables the instructors to work on the areas mentioned and improvise their learning strategies accordingly. These reviews can be submitted by name or anonymously.
An important feature to maintain a formal communication with both the instructors as well as students is email notification system which is integrated in the admin panel to stay connected with the students and teachers. An admin can customize the email notification at his/her discretion or depending upon the nature of the notification.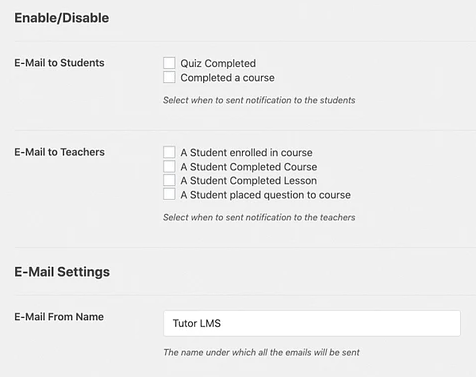 The admin panel can create additional dedicated social platforms for categorized students to interact and resolve their queries or academic troubles. You can add or remove any student or user from these dedicated Q&A platforms if you have access to the administration panel of your ProLS – University.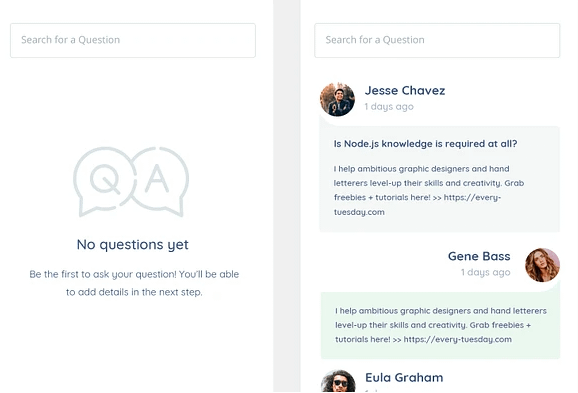 The admin also holds the authorization to set a time limit to each and every course module for the enrolled students. It can be adjusted from the admin panel under the Course Info tab. When the course duration limit is exceeded, the live class is automatically concluded.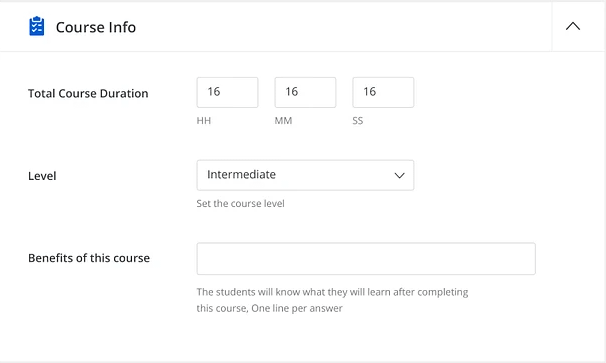 Whiteboard Demonstration
This section is the elaboration of the 11th millstone from the list of milestones organized at the start of this demonstration. It cannot be known any better to anyone than the instructors themselves about the effectiveness of a whiteboard for online tutoring. This incredible tool has a number of utilities to surpass the effectiveness of a conventional classroom board. Digital whiteboards serve the purpose of not only displaying the real-time content being written by an instructor but it also serves to be a collaboration tool which is why these boards are a fundamental tool for online learning. An effective use of the tools available on the interface of this digital whiteboard enables the instructors to render their online classrooms more interesting, engaging and lively. This part of the demonstration is centred around the true use of a digital whiteboard with all its tools so that the aspirants can yield better modular outcomes with deeper understanding and engagement.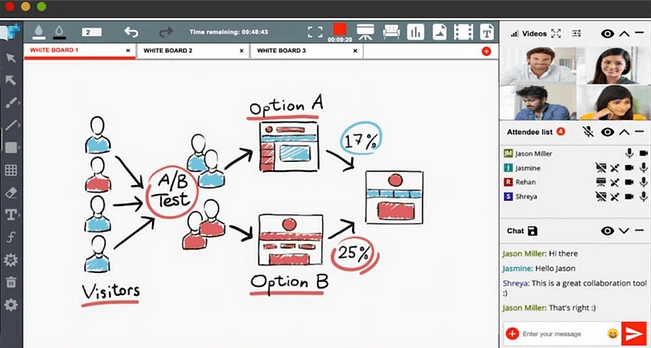 Digital whiteboard in online classes is the collaboration channel between the instructor and his/her students. It provides a real time connection between the two and helps to resolve any kind of query. These whiteboards are beneficial because one can access them from any device including cellular devices. The instructor or administrator of the course has the authority to control who joins the class. Lecture resources and helping material can be displayed on these whiteboards. It shall be noted here that these whiteboards can be handled in multitude, all at once. It means that multiple documents can be displayed in separate boards more like google tabs. These documents support a wide range of file types and extends up to support audio and video files apart from PDFs or MS office file templates. This integration is one main reason that makes this collaboration channel a success. Also online whiteboard helps to engage meeting enabling you to write, draw and even play videos. With online whiteboard the possibilities for collaboration are endless.
Setting up and launching a class on the whiteboard
This section would correspond to the final milestone #12 from the list compiled in the beginning. ProLS virtual classroom whiteboard tool is a tailored solution to entertain the needs of online teachers. If you already are or are looking forward to be an online teacher at ProLS, you may continue reading to learn the step by step procedure of using our digital whiteboard for online teaching/learning without any trouble or hassle.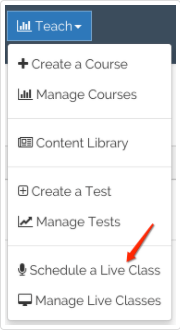 *You can also prompt the same command from the home page under the "Instructor" menu.
By default, the instructor's name will be shown as the 'class instructor'. Click the 'Change' hyperlink to select a new instructor for the class.
Select the Virtual Classroom type
HTML5 or Adobe Flash legacy version. We highly recommend to use the latest HTML5 version for best performance.

Select the data centre region
Data centre region is selected to lower the latency. A data centre should be selected from where the greatest number of attendees join your online class.

Classroom description and co-branding
Here you are supposed to enter the classroom description such as class title, date, start and end time to calculate maximum allowed minutes. Maximum allowed minutes are a function of your pricing plan.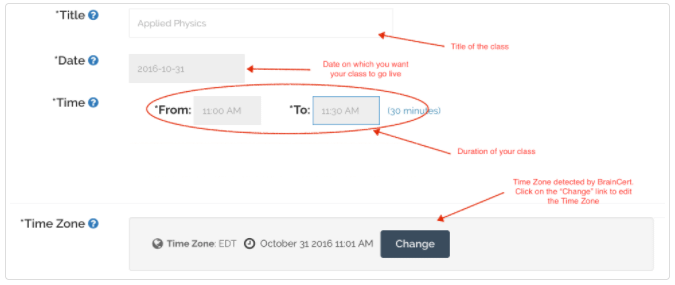 Co-branding is a premium feature that allows the instructor to add their own logo on the top left corner of your class.

Although ProLS detects your time zone automatically, however, you can click on "Change" to select a different time zone for your online class

Set the recurring classes
ProLS allows scheduled recurring classes with the option to end the class after the given/fixed number of classes are conducted. One can also limit the recurrence up till a given date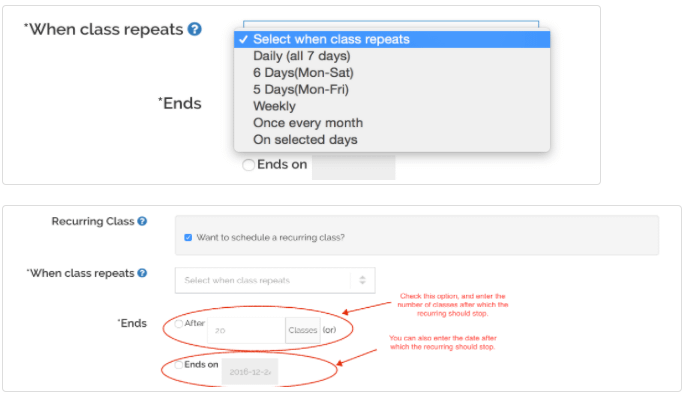 In the dropdown menu, the selection "On selected days" allows the instructor to schedule recurring but non-periodic classes. You just have to select which days you want to schedule a class.

You can let the attendees to change the interface language of the whiteboard. This feature is helpful to allow students to change the virtual classroom interface in their regional language

Choosing 'Yes' option allowed attendees to click on the global settings icon on left bottom of the page and change interface language of their choice inside Virtual Classroom application.
Live recording of classes
ProLS allows the instructors to record their live classes seamlessly and share the lectures with the students. Video is saved in HD MP4 format which is why it takes some time to process the recording. However, an email message confirms when the video is ready to be viewed or shared. Recording can either be prompted manually or automatically at the start of every class. Recording button is visible to only the instructors.
A recording signal and timer verifies whether the recording is on-going or is paused for any matter.


A recording signal and timer verifies whether the recording is on-going or is paused for any matter.
You can now launch your online classes. Press the "Schedule and Continue" button to return to "manage live classes" page. Being an instructor, you can enter a scheduled class 10 minutes before the allotted time for the preparation. Refresh the page to see the "Launch" button at the time of the scheduled date/time.

You can also send out the invites to your students or attendees via email. Click "Invite by E-mail" button in the dropdown menu under the settings label to send them a join link without requiring them to own an account on ProLS.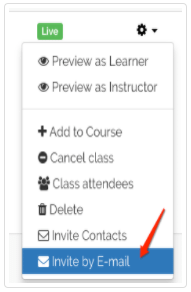 By now, all the steps and options have been graphically highlighted along with the text to demonstrate you how to launch a live class. Now, further text will elaborate the features of online whiteboard available for the instructors to make the best use of.
Features of a whiteboard
ProLS whiteboard extension is one of the most crucial and vital elements of an effective learning management system since virtual learning is not simply about displaying the content with a voice in the background explaining it. Instead, ProLS virtual learning platform offers a complete integration of conventional as well as contemporary teaching technologies to take the learning gradient of aspirants over the horizons. In order to achieve this, ProLS LMS comes with a default interactive whiteboard. This digital board allows the instructor to draw free style hand drawn graphics and objects for a better demonstration of the theories. Apart from free-hand graphics, it also supports drawing tools for clearer and time saving graphics. For instance, one can draw various shapes and symbols such as arrows, lines, pyramids and polygons to create multi-relationship or web diagrams representing connections say between a, b and c factors. This kind of dynamics make it easy to deliver any type of creative and educational training online. Additionally, the distinction of content on a whiteboard can be achieved by using different colour markers and pointers to distinguish among confusing or important text. "Colour offers an instantaneous method for conveying meaning and message without words."
Even when it comes to generate complex mathematical formulae during a lecture, ProLS whiteboard supports it all using LaTeX math equations tool. One can also save the snapshots of the whiteboard at any moment to save the content for future study or correspondence. It also enables the instructor or trainer to display or share various documents in multiple tabs which is not only time saving but this spontaneous availability of content boosts the understanding of the students or trainees in any enrolled course of their interest. Not just for the students but this multi-tab content display makes it feasible for the instructor to have full control over displaying his presentations and supporting documents all in one place, the whiteboard. Multi-screen sharing option allows the trainers and instructors to monitor the screens of the students in real time and identify any mistakes/errors the students might be doing. Instructor can easily switch between multiple screens that are colour coded for identification. Since the ground principle and root idea behind online learning management systems is to remove the barriers of time and space to let everyone gain knowledge irrespective of the demographics, the user interface can be customized for language preferences of over 50 human translated languages. It increases the effectiveness of an LMS and extends the domain of learning modules to worldwide.
Text tool makes it easy for the instructor to write on his/her board. It provides a clarity for the students since some people may have a messy handwriting on digital whiteboards. Using this tool, you can enter/insert text values of any length. Font size and type can also be modified from the available set. Click on text icon "T" to get going.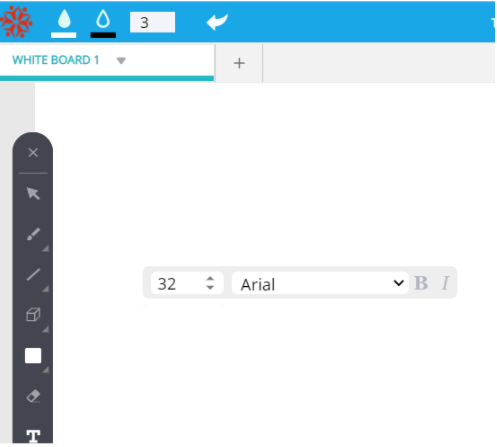 Emoticons tool allows to insert smileys or emoji's on your whiteboard area. You can access this tool by clicking on the expand arrow at the bottom of the "text" tool.
This tool allows to delete the elements or selectively erase the graphics on the whiteboard. It can be accessed from right above the text "T" button.
LaTeX mathematics equations tool
Complex mathematical equations can be generated using this LaTeX integration tool to avoid writing the long equations by hand.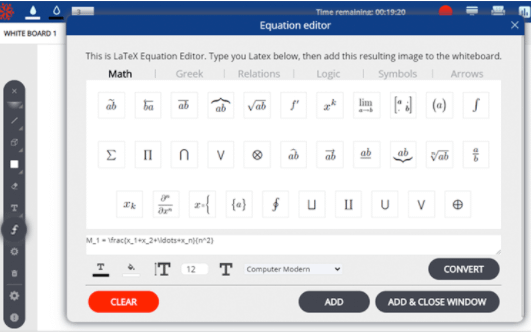 You can change the outlook of your whiteboard from pure white to different gridline backgrounds. This tool is useful to teach the courses containing interpolation, integrals, statistical analysis and data charts such as bar chart or histograms. This grid tool offers 4 different layout patterns including pure white, lined paper, grid paper, and millimetre paper. It can be accessed from right above the "eraser" tool or 5th selection from the top.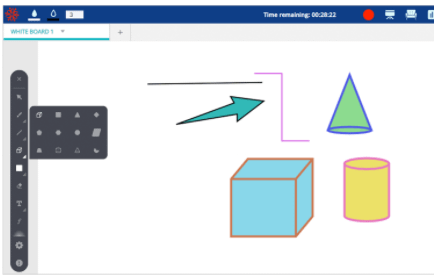 Line tools and advanced shape objects makes it very feasible and quick in presenting creative training or representation of any diagram based model. One can draw various shapes and symbols such as arrows, lines, pyramids and polygons to create multi-relationship or web diagrams representing connections say between a, b and c factors. This kind of dynamic learning makes it easy to deliver any type of creative and educational training online. Line and shape tools are independent and can be accessed from the 3rd and 4th place tools from the panel on the left.
Pencil tool can be used to write quick terms or draw immediate simple graphical blocks. This tool can be used to write freehand on digital whiteboard when need be. It can be accessed from the 2nd place in the toolbar.
This tool can highlight any sort of content on whiteboard with any colour of choice.
This tool helps to select objects to edit, move or delete anywhere on a whiteboard.
This tool makes various file types such as pdf, doc, csv, xls, ppt or even audio files compatible to be used on the whiteboard. It can be accessed from the top right panel of the whiteboard.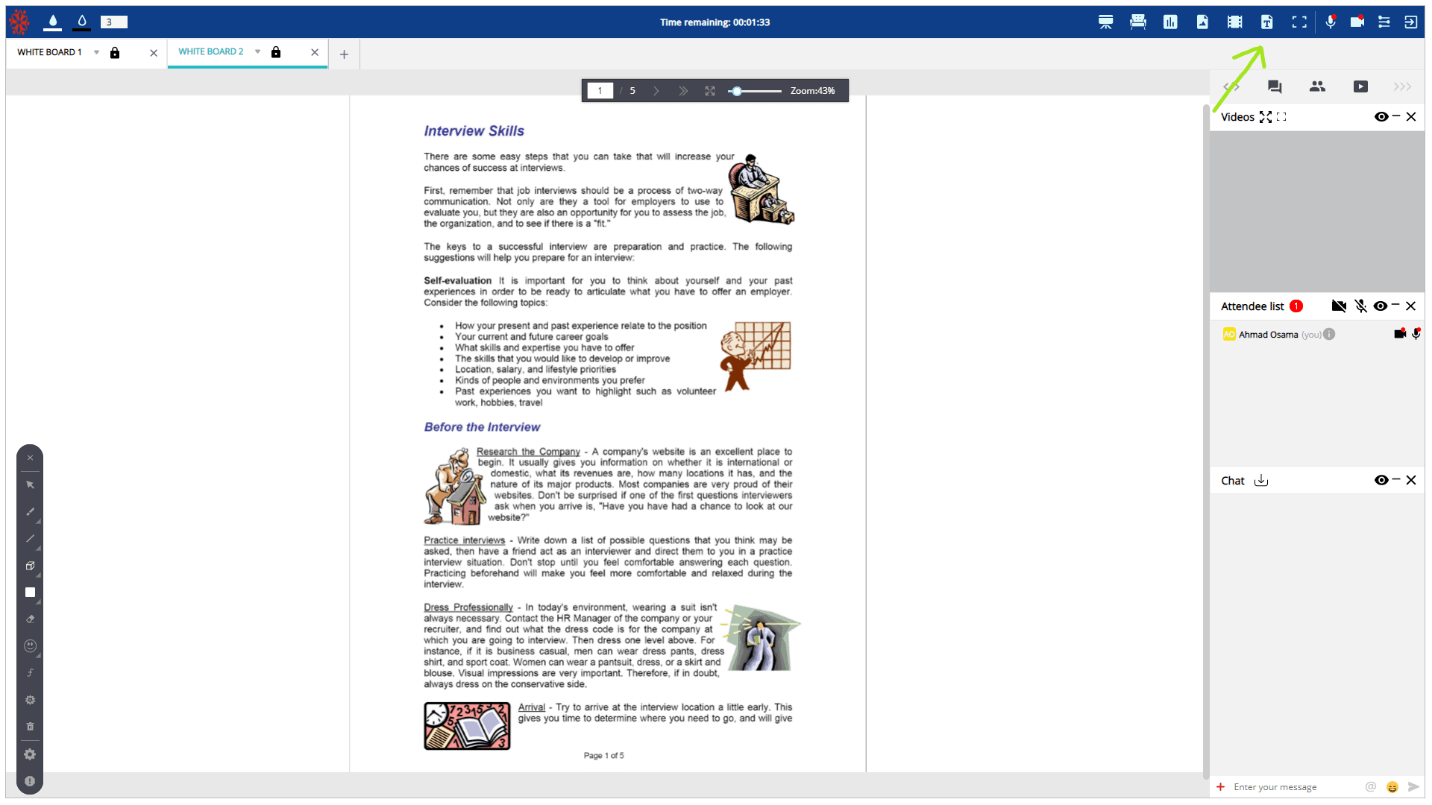 This tool helps to play video over the whiteboard area. You can either copy paste the video link and click on play or play videos from content library.
You can upload the images from your computer over the whiteboard area using this.
Helps to change the stroke color of an object.
Helps to change the stroke size of an object.
Undo action
Helps to undo the action over the whiteboard.
Helps to redo the action over the whiteboard.
Load a pre-used whiteboard
Being an instructor, you can save an in-use whiteboard on a cloud storage for future correspondence or for the continuation of any lecture. It is very time saving since the recap content from the previous lectures can be easily displayed without having to spend time on structuring a summary everyday again.
You can export a whiteboard tab with all of its content, figures and graphics as a PDF or image file. In this way, the daily lectures can be regularly exported and compiled to form a copy of notes which can be used by the end of any term or at any other time for quick revisions.
Wolfram|Alpha gives you access to the world's facts and data and calculates answers across a range of topics, including science, nutrition, history, geography, engineering, mathematics, linguistics, sports, finance, music... all right inside the whiteboard.
Multi-screen sharing allows the students to share their individual screens with the course instructors. These screens are shared as separate tabs of the whiteboard each of which can be color coded for the identification of the students. In this way, an inter-connected network and synergy between the instructor and his students can be created for group collaboration which is crucial to yield better outcomes.
Various polls and surveys can be created in real time to collaborate with the students in an online classroom. It keeps them engaged in a class by ensuring an active participation of every student.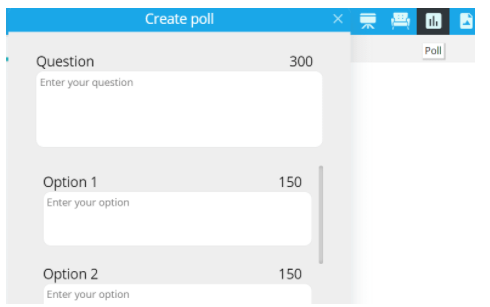 Group chat tool is the fastest and direct source of real time communication between the instructors and enrolled students for any module. It is a social forum where all the students can post their question and a public answer to every question proves to be beneficial for all. This tool is location on the right side panel.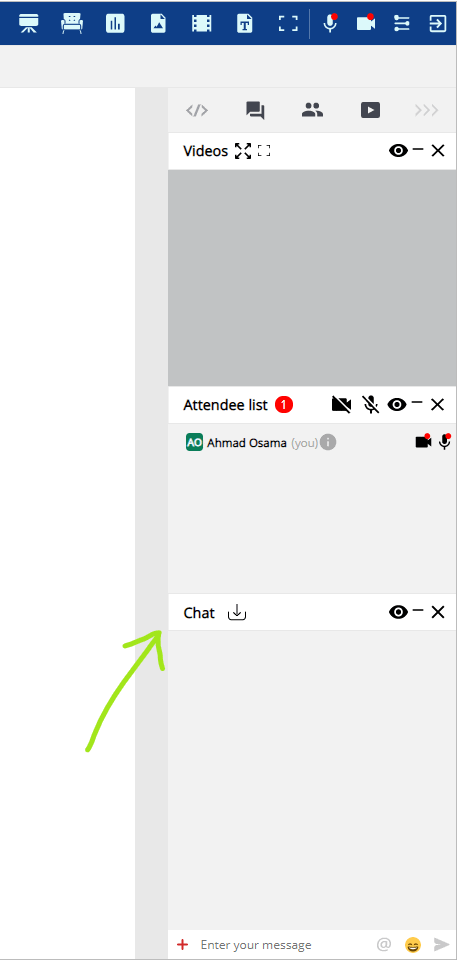 Apart from a wide range of customization options that comes with the premium ProLS – Learning Management system, there are also a whole lot of add-on tools and integrations that enable you to personalize your e-learning platform in accordance with your functional requirements and marketing preferences.
We offer a super-fast dedicated cloud hosting server to store and maintain your large chunk of e-learning material ranging from presentation files, whiteboard files, embedded video playbacks, online assessment templates, students' and instructors' records, and other administrative files. Dedicated servers allows the users to access all this content in a matter of a few milliseconds. This is a great benefit when compared to the shared hosting servers that sometimes take up to a few seconds before loading a certain piece of content from the cloud. While it is estimated that the bounce rate increases significantly if it takes any more than 2 seconds to load the content, it is very important to retain the users by offering them high quality content at a very good speed or what they call it – in the blink of an eye. However, we keep your options open and you can always choose other hosting options for your content management. You can move to a shared hosting server or transfer your cloud data to another private hosting server at your own discretion. Our teams will help you every step of the way.
Content Delivery Network, CDN, is at the heart of any learning management system with its users spread all over the world. ProLS has integrated an ultimate top-of-the-line CDN server to make the content delivery or access possible at ease all across the globe. These dedicated CDN servers helps to reduce the delays in loading web pages when the physical distance between the user and server is very large. With a platform deploying the latest CDN technologies, your users/learners can have such a quick access to all the content as if it is locally available on the web pages.
If you are large network of organizations or you want to maintain separate sub-domains for your learning categories like engineering, medicine, arts and natural sciences, then we at ProLS offer you an add-on which is called a wildcard SSL. A wildcard SSL certificate secures your domain and unlimited sub-domains on just a single certificate. This approach is not only cost effective but also time saving when it comes to deal with a large number of sub-domains especially. Our professional teams will help you set up for wildcard SSL certificates and also handle your content management on our servers whenever the need be.
In the world of digitalization, there are risks of auto-bots or other false requests generated on your website through a malware or Trojan horse. ProLS eliminates all these risks of contamination by introducing a two factor authentication which is pretty much like Google authentication or Facebook sign in authentication factors. Your access requests will prompt a pop screen whereby you get to choose your two factor authentication method be it in the form of a link sent to your email address or a code sent directly to your registered mobile number. This double authentication check reduces the risks of automated requests sent to your server. While we also offer Captcha authentication method but proven studies have shown it to fail and get bugged in certain cases to lose the very purpose it is supposed to serve.
Professionalism is at the heart of any successful organization and it assumes a lot more importance when the organization is of any academic nature. In such organizations, there is a great deal of inter-departmental communication like student-student, student- instructor, student-administrator, instructor-administrator, instructor- instructor and so on. In order to keep these communications official, there has to have a proper communication channel where every person in the communication channel is identifiable (based on their role within the organization) for future correspondence. Our email add-on offers the organizations to create unlimited email accounts for their associated users be it students, learners, instructors, or administrators. An official email address corresponds to the professionalism of an organization. Not only does it assign an identifiable tag to every associated user within the organization, it also renders the communication channels between employees registered to keep these communications on-board at all times.
Back-end and C Panel access enables the administrators of your learning management system to customize the additional aspects of the learning platform like changing the basic layouts, or altering the colour combinations to make the user interface in accordance with your personalization preferences or module theme.